main page | Genesis screenshots & reviews | Sega CD
ads/scans/unusual | my other systems | e-mail

Links...
alt.sega.genesis Usenet newsgroup. A good place for the discussion of anything having to do with Sega 16-bit games or hardware, though sadly it's not nearly as active as it used to be. Alt.sega.genesis is where I went in my early days of the Genesis. Though many of the old regulars have disappeared, this place still holds a warm place in my heart (-sniff-). BTW: If you don't know how to use the Usenet, you don't know what you're missing. (And if you want the best Usenet newsreader available, you can download a free version of Forte's Agent here.)



Game Pilgrimage
Cool page by alt.sega.genesis regular Scott H. One of my favorite Genesis-related sites. Genesis vs SNES comparisons, various console info, and more.




Whip Ass Gaming
Great page by another alt.sega.genesis regular. Lots of info and features on Sega and non-Sega consoles.






Shin Force
Shin Force is an all Sega site covering everything from the Master System to the Dreamcast, and beyond.




Sega-16
A page for everything Genesis.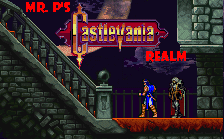 Mr. P's Castlevania Realm
Great site dealing with all various system incarnations of Castlevania, from NES to the glorious Castlevania Bloodlines to the present day. Lots of in-depth information about characters, bosses, fiends, game levels, etc.







West Mansion: The Splatterhouse Homepage
Explores all the Splatterhouse games ever released - Sega Genesis, TG-16, Famicom, Arcade, handhelds - plus fan art, music, fan fiction, and more.






The Video Game Critic
Just what it says. Tons of brief game reviews, from X-Box to Sega Genesis to Odyssey 2.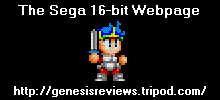 Linking to my site? Thanks! Here's a banner you can use.